One Twist Is All It Takes
Avoiding the Mistake That Will Define You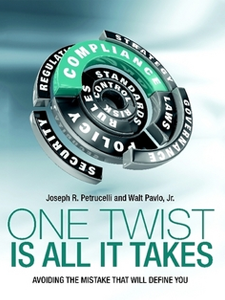 On the heels of his most recent book on government fraud and mismanagement, Petrucelli created this interactive case study and accompanying notebook approach about a real-life government corruption case. Working with Walt Pavlo, Jr., a contributor to Forbes.com and a nationally recognized speaker on white collar crime, Petrucelli conducted interviews and reviewed court documents and news articles to bring this case to life. By creating an interactive case study Petrucelli and Pavlo present a hardworking elected county auditor, mother of six, Kay Rogers, who became embroiled in a sweeping government corruption case. Petrucelli, an adjunct professor and forensic accountant, dissects Kay's story with an approach that helps accounting students, licensed professionals, public workers and forensic accountants develop the soft-skills needed to detect, deter, and more importantly, prevent fraud.
Buy Now
---
Preventing Fraud and Mismanagement in Government
Systems and Structures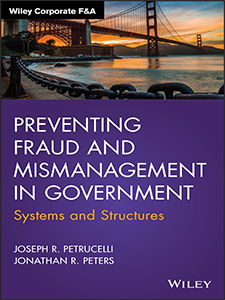 Dig to the root of public fraud with deep exploration of theory, standards, and norms
Preventing Fraud and Mismanagement in Government identifies common themes in public fraud and corruption, describes the forces that drive them, and provides an objective standard of good practices with no political bent. From Bridgegate to Iran-Contra, this book walks through the massive scandals that resulted from public mismanagement and fraud to illustrate how deeply-entrenched, entity-specific norms can differ from actual best practices. The discussion includes the theoretical underpinnings of public fraud, and how intense corporate culture and limited exposure to outside practice standards can lead to routine deviation from normal behavior and moral standards. You'll find a compendium of practices that illustrate actual norms, allowing you to compare your own agency's culture and operations to standard practice, and contrast the motivations for fraud in the public and private sectors.
Public agencies and governmental entities are generally driven by a pubic benefit or goal, but are widely varied in the ability and desire to deliver value while retaining best practices. This book explicitly explores the common patterns of agency practices and cultural norms, and describes how they can easily cross over into illegal acts.
Understand why fraud exists in the public sector
Discover how your agency's mindset diverges from the norm
Review cases where agency practices diverged from best financial practices
Learn good practices in an objective, nonpolitical context
The government/public sector provides some of the most basic services that are critical to a functioning society. Lacking a profit motive, these agencies nonetheless show a pattern of fraud and borderline behavior that could be mitigated with the adoption of standards and best practices. Preventing Fraud and Mismanagement in Government shares a canon of knowledge related to public operations and fraud, providing deep insight into the causes, solutions, and prevention.
---
Detecting Fraud in Organizations
Techniques, Tools, and Resources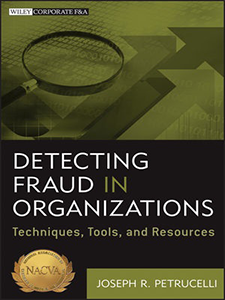 The cost of fraud to an organization goes well beyond dollars and cents. Fraud ruins reputations and lives. It can bring down even the most successful organization. Having a well-designed fraud detection system can significantly reduce the chance that your organization will be a victim of fraud. However, the key to detecting fraud is understanding where people and organizational value meet, paving the way for fraud.
Drawing from the author's thirty years of experience providing fraud training and prevention/detection services for professionals, Detecting Fraud in Organizations: Techniques, Tools, and Resources is an invaluable resource for organizations. The book is designed to help readers proactively think about fraud from a new perspective. Straightforward, simple, and entertaining in presentation, this unique book focuses on the people in today's organizations and how the value within those organizations is exposed to fraud. Featuring a companion website with additional fraud case studies and business process maps, this practical, hands-on guide explores:
Fraud and why it keeps happening
How to get a handle on transactions
What happens when someone decides to commit fraud
The six Ps of successful fraudsters
How to build a case—document organization, data analysis, and lifestyle analysis
Fraud control points in the organizational process
Filled with cartoons, pictures, motivational quotes, and one-minute mysteries Detecting Fraud in Organizations helps readers to see beyond the numbers and focus on creating open, proactive communication within their organizations. The book looks at the people in today's organizations and identifies how and where the value within your organization may potentially be exposed to fraud.
Master the Art of Fraud Detection
Want to promote fraud awareness and expose fraudsters within your organization? Look no further.
Detecting Fraud in Organizations gives you an easy-to-understand introduction to fraud detection. Learn about knowing your people, following cash, and creating an ethical tone within your organization. Learn how to to monitor your organizational processes including accounting and checks and balances.
This approachable guide gives you everything you need to become proactive in combatting fraud within your organization.
Take a look inside and discover:
The personality traits of the fraudster
Why principles and rules alone cannot exterminate all fraud
What the people in your organization are really thinking
How to catch a fraudster
Understanding the accounting process
Why auditors and accountants fail to detect fraud
The price of fraud can be damaging to your business. Get equipped to detect fraud and reduce losses with the tools found in Detecting Fraud in Organizations: Techniques, Tools, and Resources.